Online Safety at Coleman Primary
At Coleman Primary School, we take the children's safety on the internet very seriously. To support our parents, we have put together some tips, advice, guides and resources to help you keep your child safe whilst online.
"As a parent or carer, you play a key role in helping your child to stay safe online.
You don't need to be an expert on the internet to help keep your child stay safe online. Our advice and resources are here to support you as you support your child to use the internet safely, responsibility and positively."(UK Safer Internet Centre)
UK Safer internet Group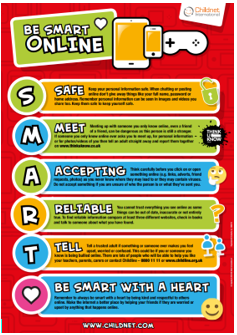 What is Online harmful content?
The grid below shows common threats from online harmful content. The '4 Cs' are the different stages at which children can be affected:
Content – What the child may be seeing online.
Contact – What might be being sent to a child.
Conduct – What the child may be doing themselves online.
Contract – Where children may be being exploited.
The cross-cutting headings are in each stage.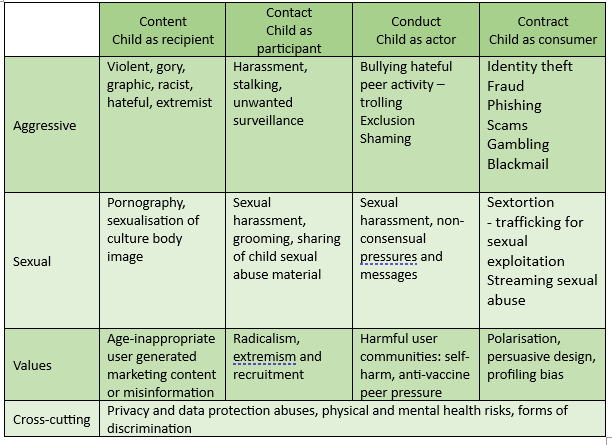 Reporting Online Harmful Content
Illegal content should be reported to the following agencies:
Having a conversation with your child
Safer Internet say it is really important to chat with your children on an ongoing basis about staying safe online. Not sure where to begin? Safer Internet have provided these conversations starter suggestions which may help.
Ask your children to tell you about the sites they like to visit and what they enjoy doing online.
What games do you and your friends like to play online?
Can you show me the websites you visit the most?
Shall we play your favourite game online together?
Ask them about how they stay safe online.
What tips do they have for you, and where did you learn them?
What is ok and not ok to share?
Ask them if they know where to go for help.
Where can they go to find the safety advice, privacy settings and how to report or block on the services they use?
Think about how you each use the internet.
What more could you do to use the internet together?
Are there activities that you could enjoy as a family?
In School Contacts
Our online safety lead is: Mr T Smith
Our Computing Leads are: Mrs Lewis and Mrs Mistry